Envision Your Own Dream Cabana
Of all the types of projects we build at MSD Contracting, our hands-down favourite is the Lifestyle Cabana. There is nothing more special than a totally custom space with the comfort of a living room in your own back yard.
"We're never inside anymore", our customers tell us, and they always say they wished they had built their cabana sooner.
The size, shape and features are designed to suit your needs, anywhere from a simple covered area out of the elements with a table, or you can get elaborate and add a bathroom and a living room with a fireplace. Far superior to the feel of a deck with lawn chairs and umbrella, is an outdoor living room with a solid roof and lighting.
Do you have kids who need to clean off from grass and chlorine? Don't want them to track their mess through the house? Then go ahead and include a shower stall in your cabana. Closed off from the elements, we use materials that will not deteriorate from the harsh winter temperatures and freeze/thaw cycles.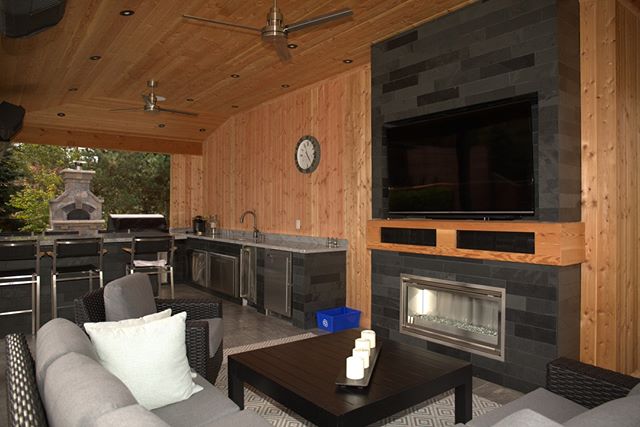 There are many cooking options too: the convenience of an outdoor kitchen is something our clients rave about. You might choose a simple portable barbeque attached to a gas line or a more fancy option could be a built-in grill set into concrete and stone and a countertop. Sinks and cabinets can be installed. Instead of wood, we use stainless steel cabinets and doors.
For the Party Animal, we can design a big open space with TV and bar for a Superbowl party, or entertaining large groups. We can or create separate areas for watching the game or chit-chatting with friends. Just imagine your ideal party setting and we will design and build it with a flair.
Did you know that you don't need to have a pool in order to have a cabana? At MSD, we have constructed many cabanas in a garden setting and there is nothing missing. Of course with a magnificent structure like a cedar and stone cabana, you will want it to be surrounded by some beautiful landscaping if you don't have much of a view. Hardscaping, softscaping, carpentry and lighting are all options to explore. Lighting is a year-round feature that we love. Even in the dead of winter you can look out at your beautifully lit cabana and dream of the summer.
Consider designing a cabana of your own, call us to discuss.